On Thursday night, MacGyver and I headed out for a date night to see Train, with opening acts of Andy Grammer and Mat Kearney at the local amphitheater.

Amphitheater being code for "outside rain magnet."

We started our evening at Chili's for some appetizers and margaritas. Not the fanciest, but it was on the way.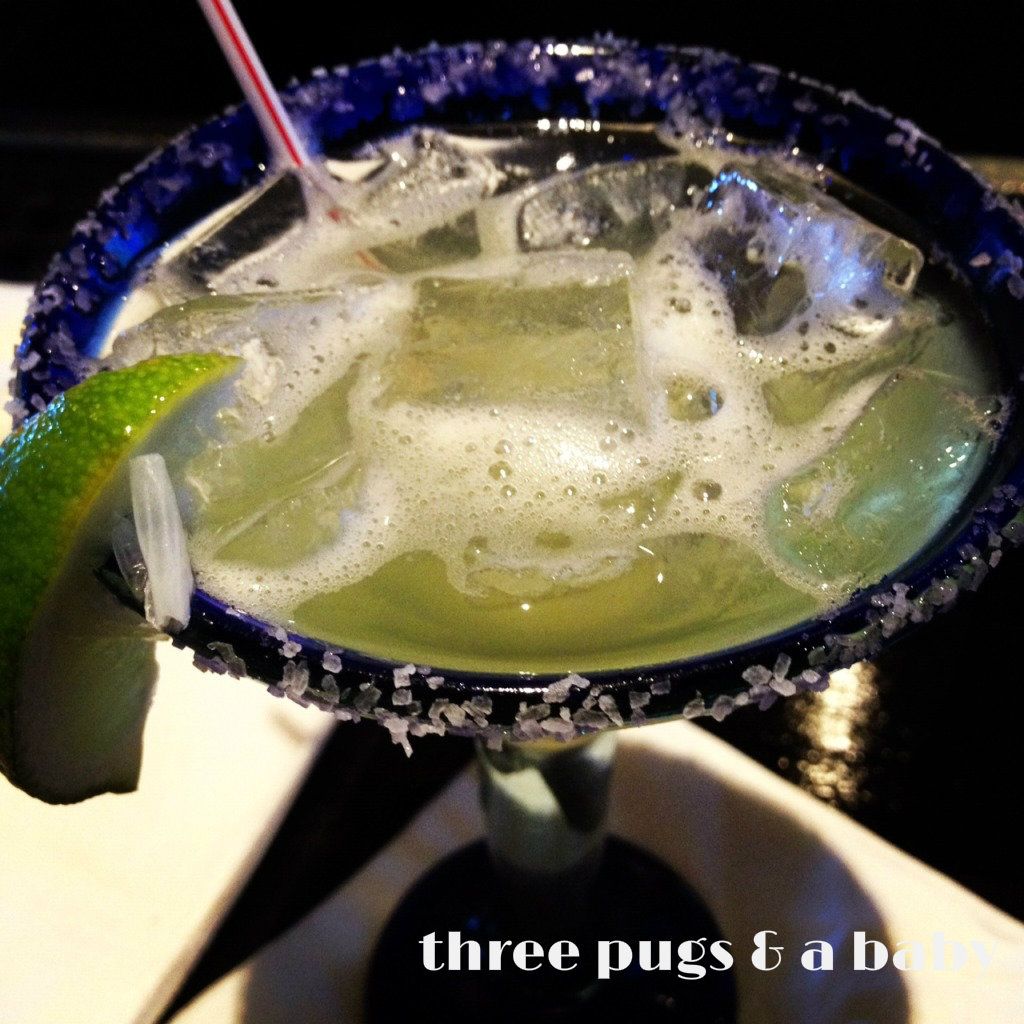 Afterwards, we drove the short distance to the amphitheater, but the lot was full. We followed some event parking signs to another location - it was a flashback to old Orange Bowl parking where the residents around the venue opened up their driveways to ticketholders (for a price, of course). We wouldn't have too far of a walk, across the street and to the main gates, but it was starting to sprinkle. Of course, we had no umbrella, but I did find a Jaguars hat in the back of the car and made do with that.
The show was sold out and it was packed, even for the opening acts. We heard about 15 minutes of Andy Grammer (including Fine By Me, which I like) from the concourse as we got a drink and hit the restrooms.
Our seats were the last row of the lower level. Actually, folding chairs behind the last row. And they were kind of sort of maybe but not totally covered by the giant tent that protects the stage and lower bowl.
As you can see, the sky was pretty gray behind us.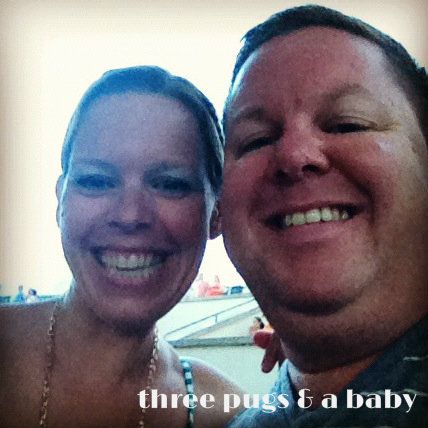 And when I headed to the ladies room again (I forgot the cardinal rule of don't break the seal), we were treated to a pretty torrential downpour. Due to the crush of people and the fact that I was wearing a white striped dress, I stayed in the concourse until it passed, missing Mat Kearney entirely. MacGyver came out to hang with me until the weather cleared and then we headed back to our seats, armed with paper towels to dry our chairs, and settled in to watch the show.
Now, at this point, I feel I must tell you: I'm not a huge Train fan. I really liked Drops of Jupiter (I mean, who didn't?) back when it came out in the 90s, but I just felt like their lyrics were so overly rhyme-y and forced, and they were trying too hard to combine Seuss-esque poetry with music.
But MacGyver? He's pretty obsessed. This makes his third show since we've been together, and the first one I've gone to with him. I agreed because
I admit to singing along with Soul Sister, and I really love the feel of the California 37 album, with the winning combination of Latin rhythm and dance feel.
And also, it's been a while since we've been to a concert together so it seemed like a fun date night.
They opened with "50 Ways to Say Goodbye," which was incredible. One of my favorites.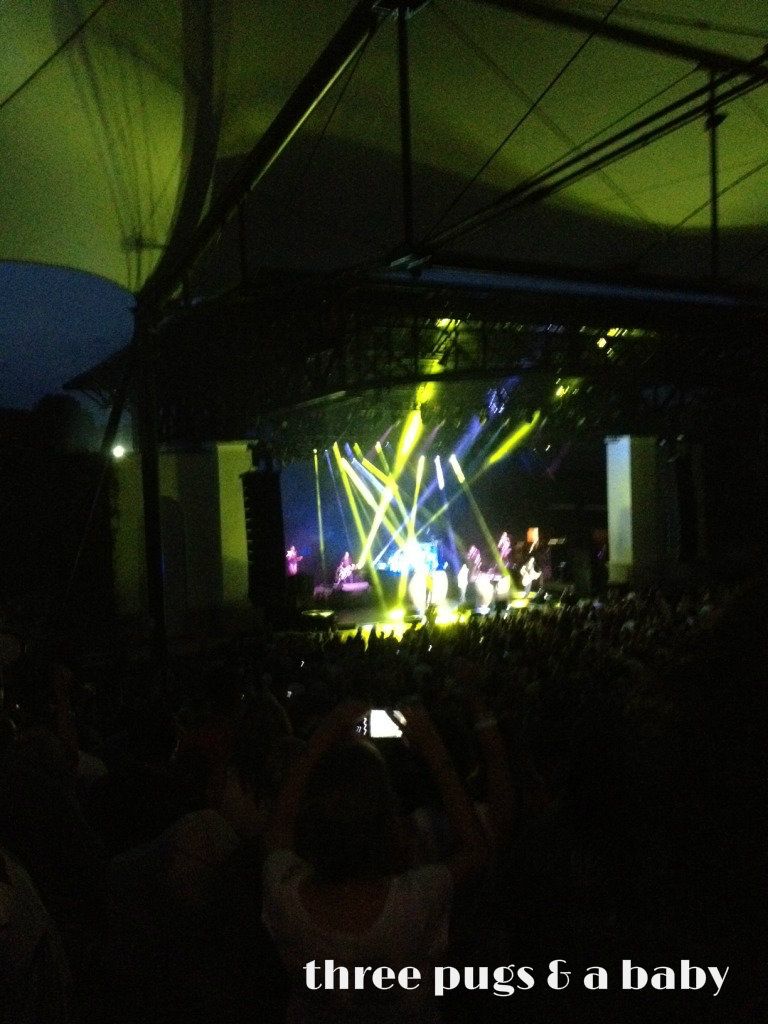 The trumpet solos and the lights brought the crowd to its feet. Pretty much everyone in the house was dancing and singing along. Amazing energy.
And then...
Well, for me it kind of fizzled.
MacGyver told me that lead singer Pat Monahan is big on crowd interaction and participation, which is nice. It did seem to break up the momentum a little.
Monahan brought up a crowd as his back up for "Mermaid," which was pretty cute, and immediately after he invited a young woman up to sing "Bruises" as a duet with him. She was great, but the back-to-back timing wasn't the best.
My other huge complaint was ... well, it was the medley. An honest-to-God medley of some of their not-quite-top-songs. I mean, they have a decent-sized body of work, but not so overwhelming that they shouldn't be able to choose a specific playlist of individual songs. Maybe I'm a little bitter that they couldn't manage to play "When I Reach To The Sky" in its entirety, but I really think the group didn't do itself any favors by condensing some of its not-as-popular songs to bits and pieces.
All in all, from first trumpet blast to last notes of "Sing Together" in the last encore, they performed less than 20 pieces. Two of which were covers and one being a percussion solo. It felt short in comparison to other shows I've attended. Things did pick up towards the end and the house was rocking for the final songs of the main set and both encores, but it just seemed like the fun cut off too soon.
Even MacGyver, the consummate fan, said it wasn't their best.
We did have a great night. We don't really share music tastes, so it was nice to go do something like this together. Hopefully, we'll have the chance to go to do it again soon!