What our most recent visit to Hollywood Studios taught us is that sometimes, it's good to have The Plan.

We've been kind of spontaneous about the whole thing. There hasn't been a lot of pressure to get to every ride, show or parade. Turtle has his favorites and we stick with those for the time being. It's meant a lot of time in Magic Kingdom, specifically in Tomorrowland, but that's ok. And on the plus side, he is starting to request rides other than Buzz Lightyear Star Command (such as Peter Pan and the Barnstormer), so we've been able to make it to Fantasyland, too.

Hollywood Studios has been kind of an off park for us. We like to go during the holidays to see the Osborne Family Spectacle of Dancing Lights, but that's more of a quick nighttime trip and we've kind of bypassed the rest of the park.

However, there's a ride that we've noticed: Toy Storia Mania! on Pixar Place. Turtle hasn't really noticed its existence in the past, but I have. And I have also noticed that the lines are super long and that Fast Pass is usually "sold out" by early afternoon.

This is the visit where we were going to get on this ride.

I made it very clear to MacGyver, that we were going to need to get up early and be at the entrance when the gates opened. Then, we were going to need to speedwalk through the big wizard hat and hop our butts right on line for this thing. And he looked at me with that expression that assures me that he is pretty damn sure I've lost my mind, and then sighed and said ok.

We did all those things. We were on line at 9:20am. And at that point, it was still at 25 minute wait and the earliest Fast Pass return time was already up to 1:35.

Told you so.

The queue was adorable. It was all decked out like Andy's room, with size to scale as if we were the toys. Loved it. Did not love the fact that the ride was 3D (or 4D, whatever that means), but, like a good mommy, I sucked it up.

Turtle loved it. I really can't describe how cute the ride is, and they 3/4D really didn't bother me. Maybe because nothing was hurtling towards me at the speed of light. He giggled and pulled the string on his shooter and had a grand old time. I was sorry when it ended.

Even MacGyver admitted it was worth the crazy rush of getting ready in the morning.

Turtle wanted his face painted, so we used that time to discuss the rest of our plan of attack.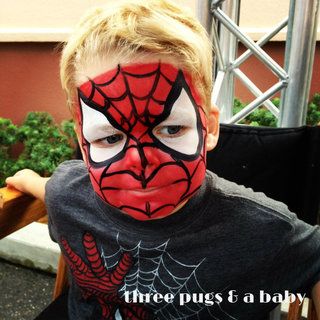 He is very into Star Wars right now. I checked the height requirement for Star Tours on my phone and found that he was tall enough. We figured we would wander over to the Star Wars area and if the line wasn't too bad, MacGyver would take him in (I'm not so good on the simulators).
We lucked out. The wait was 10 minutes, so MacGyver took Turtle in and I sat down to wait. At which point, I was attracted to the sound of the Jedi Training Academy going on nearby, and wandered over to watch a dozen or so little kids learn the power of the Force and take on Darth Vader in a mock battle. Turtle also caught a glimpse of the show and wanted desperately to go on stage with a light saber. At four, he is just old enough, so it's something we'll try for next time.
Since the line for Star Tours didn't exceed 15 minutes, MacGyver took Turtle on a few times. Each time, he came sprinting out, grinning from ear to ear. It's become his mission in life for me to ride it with him, so maybe next time.
And then we had to wrap it up to head home.
We would do things a little differently the next time.
At this rate, Turtle is too short for Tower of Terror and the Aerosmith Rock-n-Roller Coaster. He would not love the Great Movie Ride because of some of the special effects and more intense segments. So there are limited attractions that are absolutely must-do.
The plan is as follows:
Arrive at the park in advance of open. The earlier the better.

One person heads immediately to sign Turtle up for Jedi Training Academy. It's first come first serve, so it would be good to get that out of the way. The other person takes Turtle to Pixar Place, grabs Fast Passes to Toy Story Mania! and then gets in line at the Pixar Character Spot (which we bypassed this time). Turtle can have his meet & greet with Buzz, Woody and some of the other toys, without waiting too long.

Head over to the Star Wars area for Star Tours

Fill in the rest of the day with the afternoon Pixar Pals parade, the Disney Junior show and character meet and greets, visiting Lightning McQueen & Mater, and enjoying the sites.

I am also planning to add in a meal at the Sci-Fi Dine-Theater at some point. It sounds super fun.
Not too strict or overwhelming, but I think it will be the best way to fit in everything Turtle would love without being too much at the mercy of the crowds and lines.
I'll report back on our next visit to share how it goes! Wish us luck!
Do you take strict itineraries on vacation to theme parks or do you just fly by the seat of your pants?