Wednesday's theme for Teacher Appreciation week is "school supplies."
I had some great inspiration from browsing online, but then I was ready to get creative. I hit up Walmart, Target and JoAnn's for supplies:
3 pack of papier mache nesting boxes (I painted them tangerine and fuschia)

3 rolls of matching ribbon

bag of cotton balls

24ct box of wood pencils

8 boxes of 24 ct crayons

3-4 boxes of 10ct markers

2 6ct packages of small glue sticks

4 bottles of school glue

4 travel size containers of hand sanitizer

box of Kleenex and package of travel tissues

large rubber bands

hot glue gun

cake board, larger than the biggest nesting box.
I started by hot gluing the largest box to the center of the cake board (I did not glue the lids on the boxes - instead, I filled some of the boxes with leftover supplies or supplies I didn't use - cotton balls, pencils, extra glue sticks and markers).
It took me a few attempts to figure out what I wanted on each layer, but finally I decided to make the bottom tier a combination of glue bottles, glue sticks, hand sanitizer and tissues.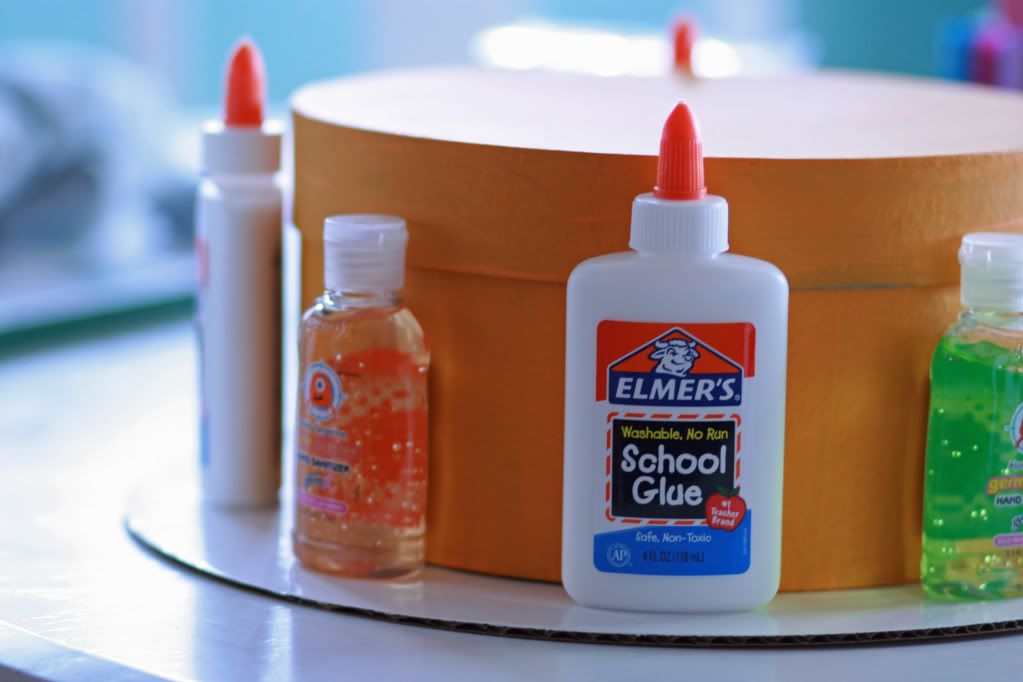 For support, I used dots of hot glue and regular glue dots to hold the items in place along the bottom box. If you have a rubber band that's large enough, you can use that instead.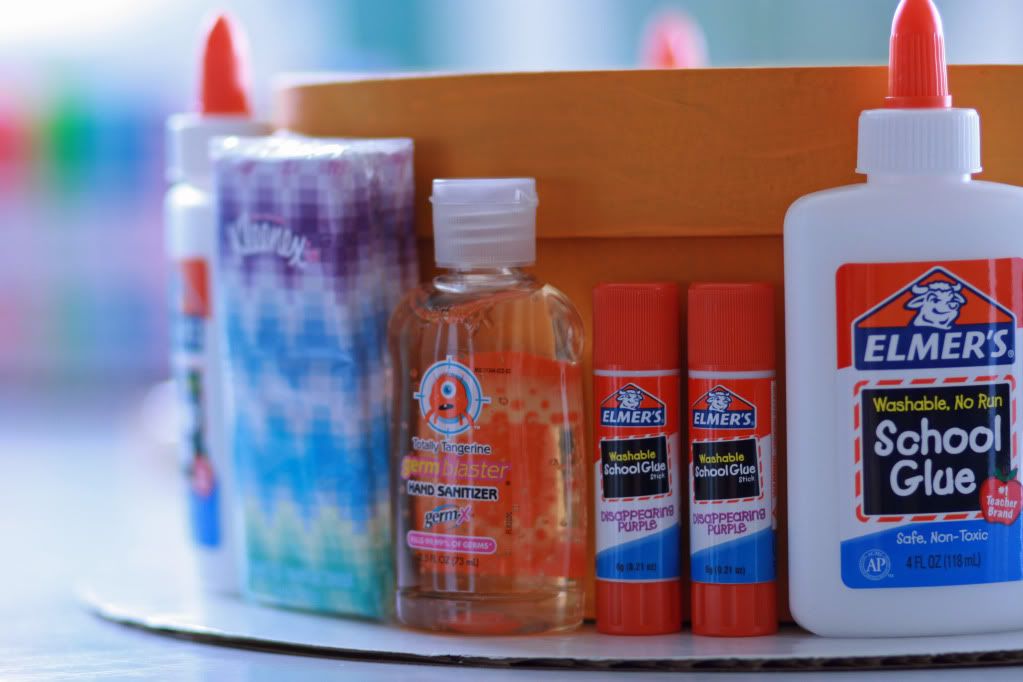 To complete the bottom layer, I measured out a length of my widest ribbon and bound it tightly around all the items, using hot glue to secure the ends at the back.
My middle layer was the crayon box layer. Glue the mid-size nesting box to the lid of the bottom tier, and then secure the boxes of crayons around the box using a large rubber band. This time, I used a contrasting ribbon as a band around them, gluing the ends in the same way I did the first layer.
For the top layer, I removed the markers from their boxes, and inserted them into a rubber band wrapped around the smallest box. At intervals, I inserted my remaining travel tissue packs. I then hot glued the top box on top of the middle box and glued the right length of ribbon around it.
I found this great box of tissues from Kleenex - brightly colored and shaped like a bird. I couldn't resist, and this formed the topper for the school supply cake. I thought it was fun and whimsical. You can use any kind of box you find, or you can even wrap a plain box in fun paper if you want to jazz it up.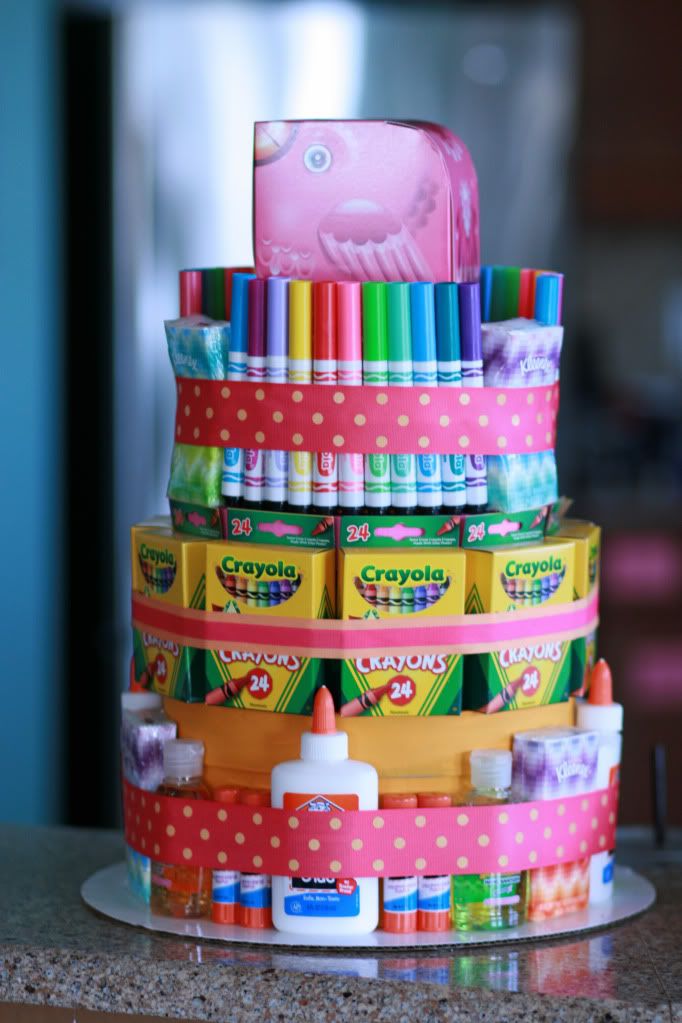 Finally, I made the signs: an orange-y star with the name of Turtle's class and a black rectangle with the names of his teacher and her assistant.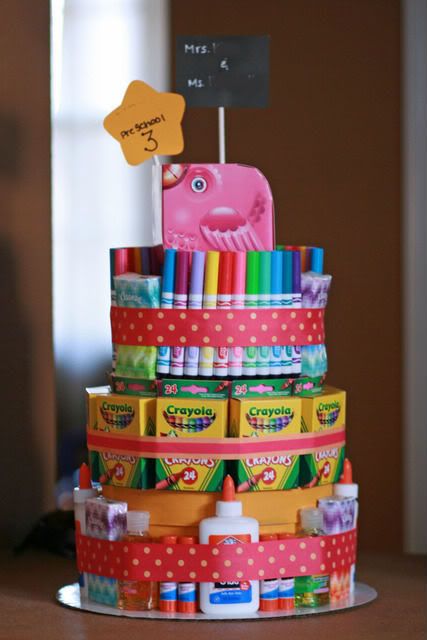 Voila!
You can really make this project with whatever supplies you want. For older classes, you can incorporate notebooks, calculators and scissors, or anything else. You can also bring in more art supplies - bottles of paint and brushes, for example. There is so much flexibility!
Have fun!
Inspired by What's Scrapping and The Butlers