Guess who we can blame for this one.
Oh, and a friend who actually went ahead and made these herself, giving me the confidence to go out and actually buy freezer paper last month, gearing myself up to make progress.
Opportunity arose in the form of The Big Game, airing Sunday.
Obviously, as Dolphins fans, Turtle and I have no gear even remotely appropriate for this weekend's festivities.
And I really didn't want to spend the big bucks on official shirts for a one-time wear.
First, I printed out the design I wanted on the paper side (not the shiny side) of the freezer paper (I had to cut it to 8.5x11" to fit through the inkjet printer. And, rumor has it, you MUST do this on an inkjet. Nothing else).
Then, I used my new Exacto knife to cut out the letters on a cutting board. If you want to be fancy, you can use one of those self-healing craft mats. However, necessity breeds invention, so I went with what I had on hand.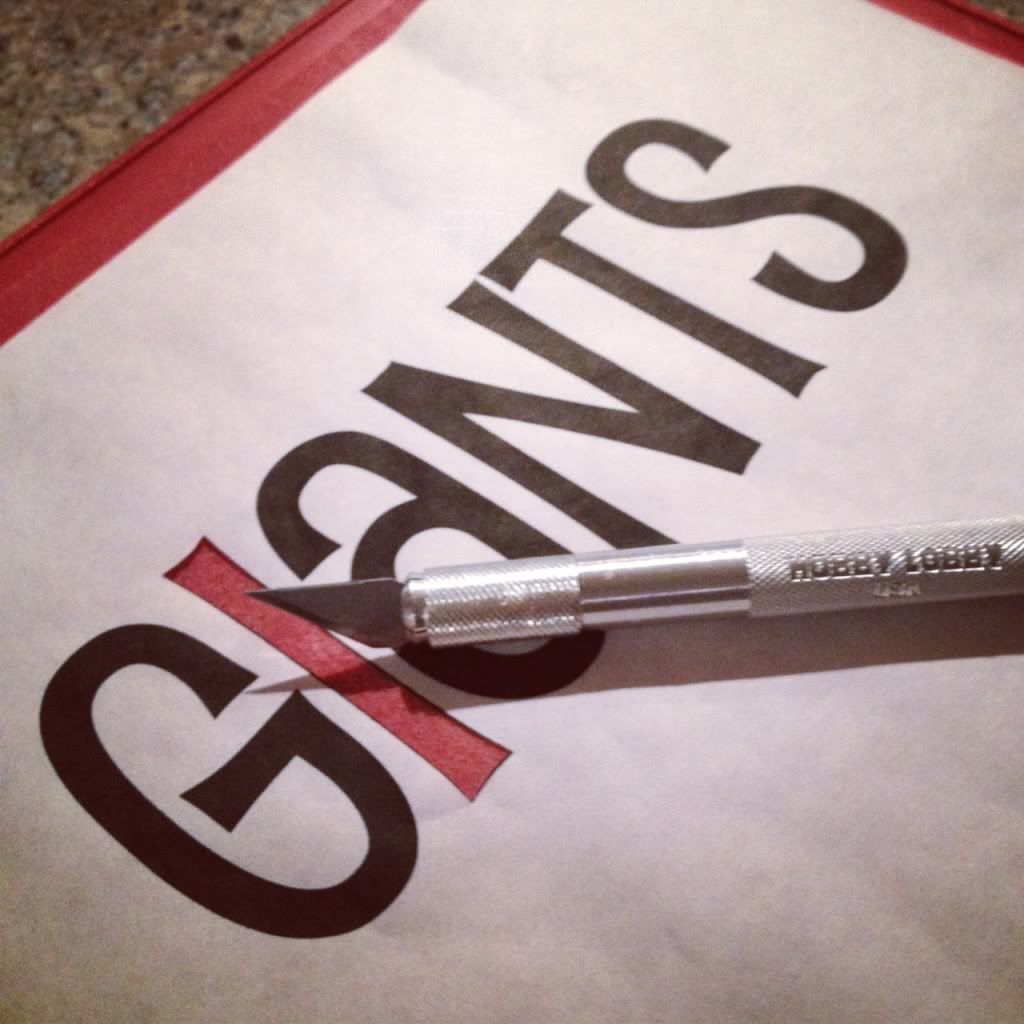 When all the letters were out (I saved the circle from the middle of the "a"), I trimmed off some of the extra freezer paper (left about 2-3" around the letters on all sides) and positioned the stencil on Turtle's shirt.
Time to iron! (For those who know me, this was a big project - I am notoriously clumsy with craft blades, irons and hot glue guns. It's a wonder I didn't harm myself along the way). With the iron set on medium heat, gently run it over the stencil, until it has adhered to the shirt.
Yes. It will stick. Whoever figured this out is a freaking genius.
Next, pour out some craft paint (This is just regular acrylic paint. You can certainly use fabric paint, too). For this shirt, I decided to keep it simple and use white. You will also need a flat-tipped brush or sponge. (I tried both. The sponge was easier).
Slide a piece of cardboard into the shirt, behind the area you will be painting. This will give you a flat surface and keep paint from seeping through on to the back of the shirt.
And then, working quickly and carefully, dab the paint onto the exposed area of the shirt, through the stencil.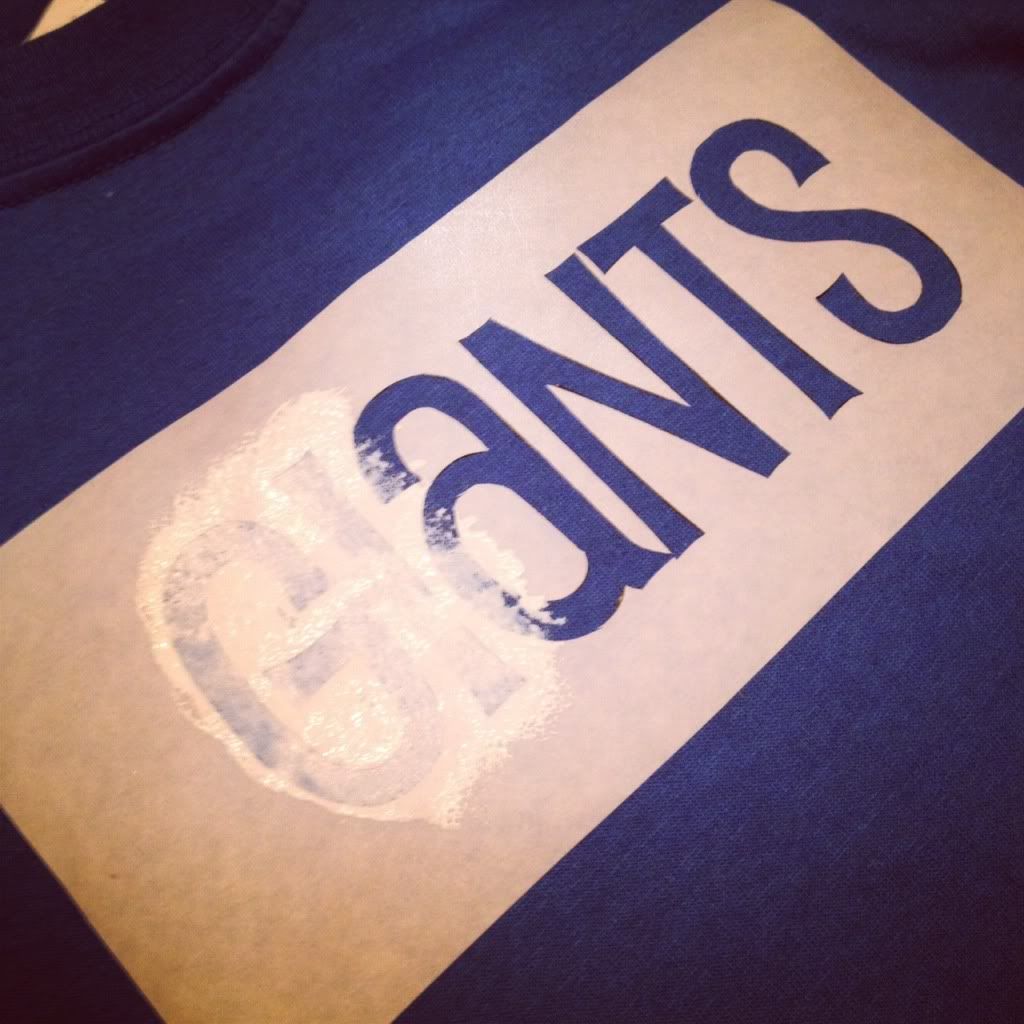 Let it sit until almost dry.
Then, keeping your excitement to a minimum, start at a corner and peel, peel, peel, until you've peeled your stencil away.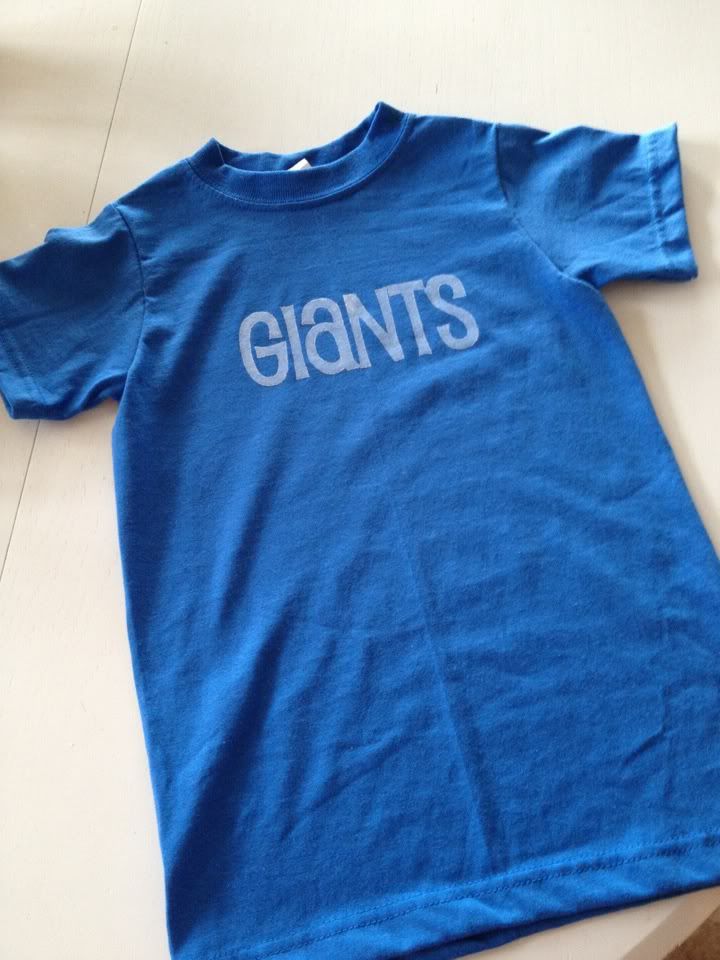 What? Not fancy enough for you? Yeah, me either.
I got a slouchy tee with 3/4 sleeves from Tar-jay for myself. I created another stencil the same way and ironed it on.
Glitter. You don't get more fancy than that, kids.
Working a letter or two at a time, I dabbed on the blue paint and followed it up with a healthy sprinkle of glitter.
Everything is better with bling.
I gave the shirt a little shake outside to get rid of some of the excess, and then did the grand peel-back.
Can I get a drumroll, please?
I'm not entirely convinced the glitter is going to survive the wash, so next time, I'll probably use some fabric glue to hold it in place. I was scrambling for something cute to do and this will serve its purpose.
Definitely give it a try - I have a ton of freezer paper left and I can't wait to make some more shirts in the future. Be sure to comment and show me pictures of shirts you've made or tell me what you might plan on making now that you see how easy it is!